21st January 2020
Why the need for a Data Lake
As technology has evolved over the last decade, whether you're in a financial services enterprise, a retail SME or actually, anything in between; you've most likely got a huge amount of data within your business. Customer data, behavioural data, usage data, operational data, spatiotemporal data, genomic data; the list goes on.
The problem is, it's not being used. It's not being captured consistently or analysed effectively, preventing organisations big and small to realise the value that data presents. Many organisations have their data locked away in existing/legacy systems and struggle to liberate or integrate that data to inform their decision making and improve performance.
The more innovative businesses that are thinking about data science and the application of analytics in their companies are hamstrung because they only have a fraction of the data they need and what the data they can access is often sanitised so much of the value is lost.
As big data, analytics and AI have risen to the top of the enterprise IT agenda, compelling use cases have been increasing in volume, demonstrating the value and superior commercial outcomes that can be achieved once your data has been liberated.
As an innovation partner to some of the most pioneering enterprises, we're often engaged on the very first step of this journey - there is a lot of data, in a range of formats, stored in a variety of systems, with varying levels of integration. What to do?
Enter the data lake
Ok, what's a data lake?
A 'data lake', is a central data repository, that allows you to ingest, store and process all your data, both structured and unstructured at almost any scale. Once deployed, you can utilise powerful analytics techniques and tools on your data. From simple dashboarding and data visualisations to more complex machine learning and stream analytics solutions to help deliver actionable insights that improve your decision making.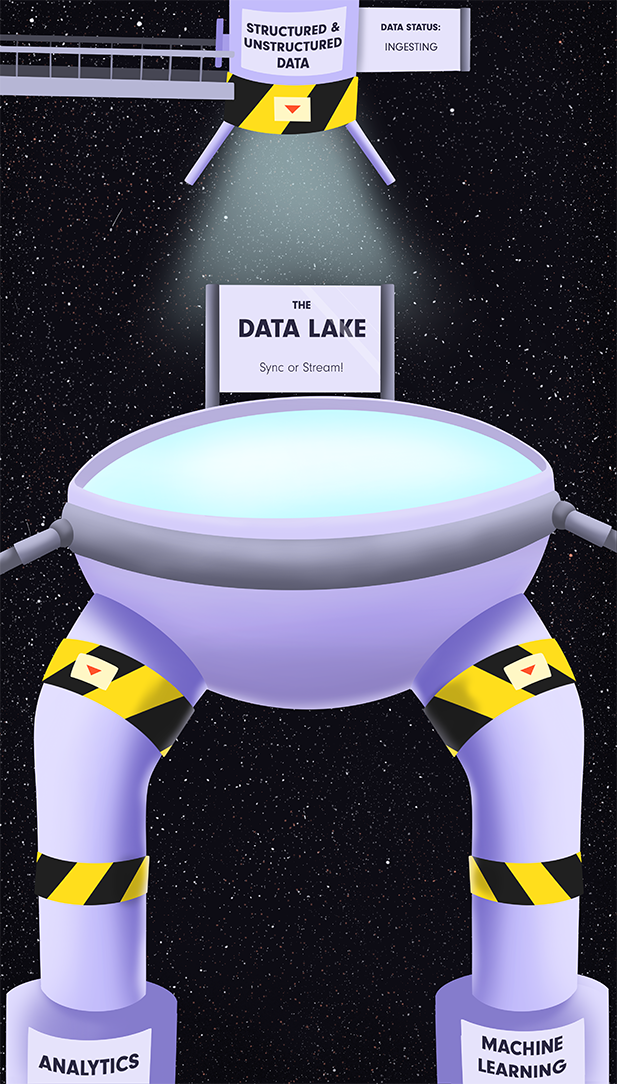 Using a data lake removes the complexities of manually restructuring, blending, ingesting and storing your data. You can import data from multiple sources, regardless of format and size without having to worry about defining data structures or schema. You can store trillions of files, and a single file can be greater than a petabyte in size – 200 times larger than other cloud stores. This means that you don't have to rewrite code as you increase or decrease the size of the data stored or the amount of compute being spun up.
So whether it's relational data from operational databases or behavioural data from your mobile apps or IoT devices, you're able to get that data in a central place where you can understand what that data means through a range of services that help you crawl, catalogue and index your information.
Why are data lakes important?
Once you've got your data lake established, you can provide various functions in your enterprise such as business analysts, solution architects and data scientists with secure and appropriate access to your entire catalogue of data. With a choice of analytics tools, such as HD Insights from Azure, you can empower these teams to effortlessly process massive amounts of data and use a range of open sources tools for analytics. You can then extend these tools to generate valuable insights from historical and real-time data, creating machine learning models to conduct automated key driver and root cause analysis as well as forecasting predicted business outcomes.
The insights generated from these analytics, help you to identify and engage with new commercial opportunities faster, allowing you to attract and retain customers, increase productivity and make more intelligent, informed decisions.
If that wasn't enough, it turns out (and we've got data to validate this) organisations that successfully generate value from their data, will outperform their competitors and peers. In a research paper from the Aberdeen Group, it was found that organisations who implemented a data lake outperformed similar businesses by almost 10% in organic revenue growth.
Our favourite use cases
Leading organisations are using data lakes to help achieve these outcomes now, you can read some of our favourite Azure data lake use cases here:
Learn how Reckitt Benchkiser have empowered over 40,000 employees to help better steer their business with

enhanced customer insights
Read more on how ASOS built a personalised recommendation engine to deliver better experiences to customers
Learn how Roche leverage a range of Azure services including data lakes to optimise their operations through real-time data from connected devices
In Conclusion
The opportunity that data lakes present, for organisations to harness more data, from more sources, in less time, is significant. But empowering your teams, be they analysts, developers or data scientists to collaborate and analyse data in new ways with new tools is a game-changer.
There is a legitimate opportunity to improve your customer experiences, increase productivity and deliver better, faster decision making to your business.
So if you're thinking about how best to use the data within your organisation, a data lake might just be the best place to start.
Want to understand how a data lake could transform your organisation? Get in touch to speak to one of our Azure accredited experts or attend our Azure Integration Services workshop.