2nd September 2019
Some are about new thinking or new techniques, some are about legacy technology and some are just useful resources for different languages or platforms. Some are just lolz. The brief is simple - if we think they're useful, you might too.
What if technology could help you be anywhere you need to be and speak any language? Using AI technology and holographic experiences this is possible, and it is revolutionary.
https://www.youtube.com/watch?v=auJJrHgG9Mc&feature=youtu.be&t=241
Want to know 22 tools you can use to build your react apps in 2019?
Check out the tools here
Find out what's in the new ES2019 JavaScript
Everything you need to know here!
Inno-Versity Presents: Greatness by David Marquet
See how David Marquet achieved success by treating his team like leaders, not followers.
https://www.youtube.com/watch?v=psAXMqxwol8&feature=youtu.be
ROG GX700 is the world's first liquid-cooled gaming laptop
It is designed to give you a gaming laptop with the overclocking potential to go toe-to-toe with extreme gaming desktops. Find out more here
Have a look at the
AcroBee Lite RTF Kit
Here is the perfect place to start if you don't want to build or tune your own quad
Periodic Table of DevOps Tools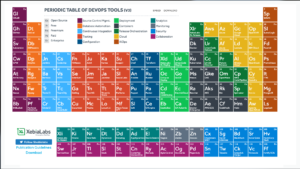 Have a look at the periodic table of all DevOps tools in more detail here
Find w
here Developers Learn, Share, & Build Careers
Discover everything you need to know and more!
Cloudcraft – Draw AWS diagrams
Visualize your AWS environment as isometric architecture diagrams here
What I wish I knew in my 20s (ft. ex-google tech lead)
https://www.youtube.com/watch?v=SXwGtZuNDO8
Like this stuff? Want to work with people who like this stuff? We're hiring! Get in touch: hello@dootrix.com