21st April 2020
The next-generation of mobile apps is here. Organisations all around the world are harnessing the mobile app opportunity, using new and improved experiences to attract, engage and retain their customers. New cloud-enabled technology is empowering enterprises big and small to create mobile apps at stunning levels of complexity, with futuristic leading-edge features.
New and exciting experiences are being made available for consumers in the mobile apps they use. Commoditised AI? No problem. Augmented reality features? Activated. Cloud platforms like Microsoft Azure are providing this functionality out of the box, with a range of low code solutions to help deliver on the rise in consumer expectations.
Whilst these developments have been taking place, there has been another technology that has quietly been evolving in the mobile app landscape: analytics.
Data has long been championed as one of the most essential tools for improving customer experience and there is no exception when it comes to your mobile apps. Analytics can give you better insights into your product and your user experience. Giving you evidence-based recommendations to engineer the best app you possibly can.
With that in mind, we going to share our approach to modern mobile app analytics: what they are, the benefits that analytics can bring to your app and how you can effectively lay the foundations for superior analytics and data science.
Analytics & data science
Ok, so what're we talking about here?
What: Collecting, analysing, and modelling data with the purpose of knowledge discovery, gaining business intelligence.
Why: Analysing this data generates meaningful insights from your app. These insights can help you build valuable data packages and recommendations to improve quality, relevance and efficiency for your software development.
How: Using computing & mathematical techniques on standardised data to create data science and analytics models. But It's not about how advanced the models are - it's about the magnitude of impact. We don't necessarily want to create something technically incredible - just a process that helps us out.
Mobile app analytics: business benefits
The insights that effective analytics can bring to your business are invaluable. With the right approach, you can benefit from:
Bug & defect diagnosis: discovering issues on public builds as they occur

Fix issues faster: using foresight to spot issues earlier and get to them faster

Measure the impact of design: channelling feedback into the ongoing development of your app

Greater platform for design testing: test a new design, AB test and collect data remotely from real users

Business performance monitoring: marketing and sales conversion statistics

Cost reduction: understanding what's driving your costs and how to optimise them

Customer engagement & satisfaction: understand what's driving user behaviour and how to engage and delight users

Quality of service: ensuring you're delivering on users expectations and delivering the best experiences possible with customer journey analytics
Where do we begin?
We often work with clients at the very start of their analytics journey. To help visualise the key steps for creating effective analytics, we often start by looking at the data science hierarchy of needs: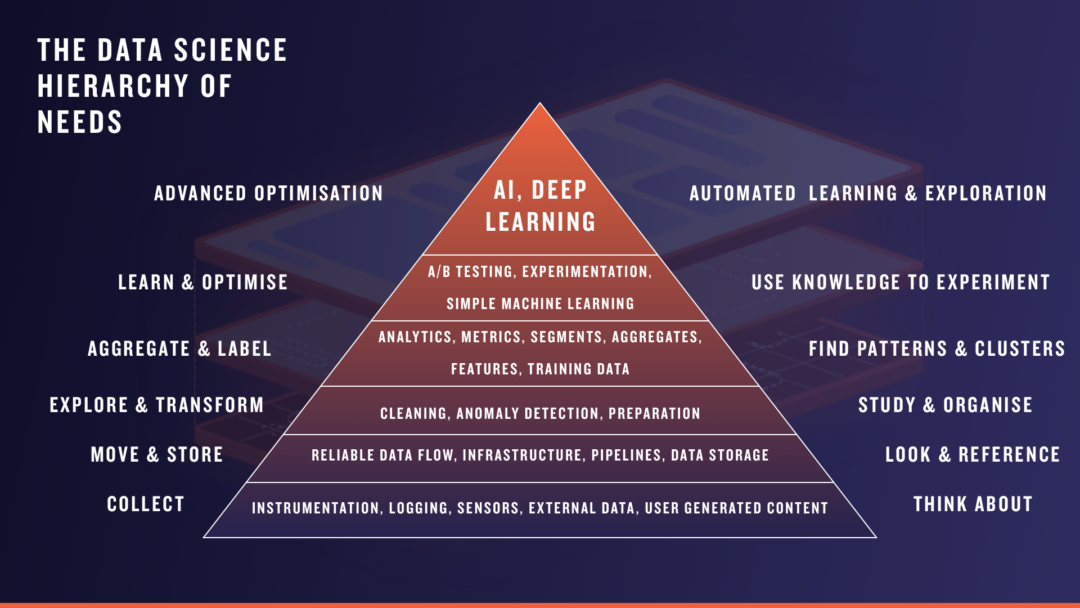 From the bottom-up, this tool demonstrates the different levels of depth for data extraction and utilisation and reflective of the effort involved at each stage. Each step up the hierarchy provides greater value and benefit to your business but requires more effort to get right.
In the early stages, it's about planning and standardising a process that can extract the easiest-to-access benefits at little cost. Once we've obtained this level and achieved these benefits, we can begin to scale up the hierarchy if we desire.
To lay the foundation for AI and deep learning, we start by focusing on the first level, effectively and sensibly collecting standardised data. That data will be useful at the highest level, ensuring we don't need to go back and make significant changes to the structure of our application.
Standardising data collection
When you're first looking to standardise your data, there are a number of common problems that organisations face. In order to build a solid foundation for analytics and data science, we want our data to be:
Accurate: reliable and reflective of real information, representative of what's really happening in the app

Efficient: no unnecessary overlap in the collection of data, there's no need to collect the same thing twice

Quantitative: measurable and useful for easy to interpret trend analysis with graphs and charts

Qualitative: descriptive data, helping us to characterise the experience of the app and unlocking advanced contextual insights

Comprehensive: making sure we're capturing everything we need for scalable processing and to change direction flexibly if we need to
Our recommended tools for collecting data
There are three tools and services we recommend for collecting and storing this data.
Google Firebase

Automatic data logging

Scalable processing

Exportable data
Firebase is a good all-round tool to facilitate data collection in your mobile app. It has a useful free tier to help smaller businesses or those at the start of their journey.
Microsoft App Center

Xamarin (cross-platform) support

Azure DevOps integration

Simple tools for analytics
App Center from Microsoft is another very effective tool to collect data. It's easy to implement and scalable and great for development as it integrates with popular tools like Azure DevOps and is compatible with popular app dev tools such as Xamarin.
Both tools are highly effective for facilitating data collection, better analytics and data science.
Summary
The opportunity that mobile app analytics present, for organisations to capture more data and generate meaningful insights is a big one. With these insights, businesses can increase development efficiency, improve the experiences they offer their users and ultimately, build the best possible most app.
So if you're thinking of developing a next-generation mobile app, take some time to think about analytics!
You can read about how to build a best in class mobile app in our free eBook the CIO's Guide to Mobile Apps. If you want to understand more about how mobile app analytics could help you deliver better mobile experiences, get in touch to speak to one of our Azure accredited experts now.
[download-form file="https://dootrix.com/wp-content/uploads/2020/04/CIOs-Guide-to-Mobile-Apps.pdf" title="Download our free eBook now!"]