23rd July 2019
One of our recent posts shone a light on how to engineer a best in class mobile app. But engineering is really in the middle of the process. When creating any mobile application it's crucial to know where to start. Dive straight into the feature list and you could neglect an important part of the user experience; roll your sleeves up with the visual design you could forget why you're here in the first place. For us, you should always start with why. The 'why' for your mobile app development project is your product vision.
"There are only two ways to influence human behaviour: you can manipulate it or you can inspire it" Simon Sinek
Defining a vision for your mobile app is crucial
A strong product vision should be inspiring for your organisation, for your project team, and ultimately for your users. It's the articulation of your ultimate goal. It will act as your true north, providing a continued direction in times of uncertainty, difficulty and decision making when creating your product.
To ensure your product vision is motivational and a source of inspiration it should be user-centric, it should also focus on the change or impact your product will provide. It needs to be ambitious, you need to think big and aim to inspire. But your vision should also be concise and clear. Stakeholders, project players and users need to understand the vision and the purpose of the app, so it should provide clarity and confidence.
Mobile apps with a strong vision are the most successful - think:
Google maps: Find your place
Twitter: Information, without barriers
Headspace: Meditation made simple
Where do I begin?
We take clients through a process of identifying the following attributes to help craft the perfect product vision for their mobile apps: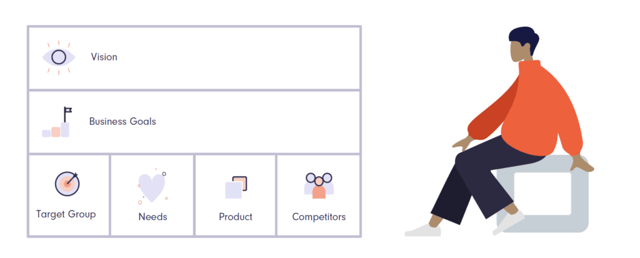 Business goals: What are you trying to achieve with this app? Think strategy: outcome. Increased customer satisfaction: increased revenue. Better communication: operational excellence.
Target group: Who is your ideal user? Think demographics, profiles, ethnography, behaviours etc.
Needs: What are your user's needs? What is the goal they are trying to achieve when using your app?
Product: What are is the user engaging with your app for? What is the product of that process? A new car insurance policy? Improved operational efficiency?
Competitors: Do you have any direct competition? Who are they? Are there any features of apps you love that you would like to emulate?
Answering these questions gives us a strong place to start.
The next step is to hold a collaborative visioning workshop with your wider team. Rather than formulating a product vision and then selling it into the key people, you work to create it together. You can use the template above as a guide and ask the workshop attendees to describe their vision for the product. Then compare the different visions, look for common ground, and combine the different goals into a new one everybody agrees with.
We often use Geoffrey Moore's vision formula to create something concise and impactful:
A compelling vision drives performance
Creating successful and high-performing digital products requires dedication at every level. The companies that do manage to create outstanding mobile apps ensure that they ask the right questions, collaborate, and incorporate their vision for their mobile app into the product from end to end.
Creating a compelling mobile app vision can be a challenge, but with the right approach and the right tools, you'll get the best start. By focusing on the right pillars, you can deliver the best experiences, processes and products for your users and you can drive your commercial performance as well.
To find out how to build a best in class mobile application, download our free eBook, the CIO's Guide to Mobile Apps now.