14th January 2020
The startup market in the UK is continuing to flourish. Despite the uncertainties of Brexit and fierce competition from like-minded entrepreneurs and enterprises alike, the top 100 UK startups collectively raised almost £1 Billion in 2019, demonstrating the opportunity to create new, exciting products that help customers achieve their goals is still out there.
As the founder of a startup, you're in the greenfield, can write your own technology rule book and the cloud is the best place to start. Unlike their larger competitors, a startup isn't impinged by legacy systems, project processes or the challenges of driving change at scale. So even though a larger business often has the superior budget, resources and sometimes experience, their ability to leverage the latest cloud innovations can be a challenge. The cloud is one of the few areas where a startup can access and leverage the best that modern technology has to offer and help your product stand up to even the most established enterprises.
As a non-tech founder, the cloud can seem daunting and complicated, however, there are a number of significant benefits that adopting a cloud platform such as Azure can bring to your startup.
What are the benefits of Cloud Computing for my startup?
Scalability
One of the most significant challenges faced by startups is knowing the unknowns, especially when it comes to business needs and resources. Startups have the ability to procure a range of cloud services that meet their immediate needs, with the flexibility to scale up or out if the business grows rapidly. Of course, we hear a lot about the importance of scaling up, but the cloud also enables you to scale down with demand and you can flexibly scale your cloud resources based on specific triggers tailored to your business.
This helped us create a best in class kiosk product for Suffolk Libraries, which uses the latest in serverless technology to build better customer experiences and empower their employees to add value to their customer journey.
Security
There's a common misperception that adopting a cloud platform reduces security and that your best bet is to keep information crucial to your success, such as your IP, on-premises. But in reality, the cloud provides a broad set of policies, technologies, controls, expert technical skills and ultimately provides better security.
At the start of your cloud journey, you can have peace of mind that your information is protected. Cloud computing has solid security practices and technology to secure the platform, protecting your data and mission-critical applications with regular back-ups and proactive monitoring for bugs and potential attacks.
Innovate faster
One of the most significant benefits that a cloud platform can offer is the range of innovative solutions your provider can offer you right out of the box. By using the wealth of tools, services, and software components prebuilt into the platform, startups can reduce their software engineering workload and develop new capabilities quickly and cost-effectively. Working with reusable components on a proven platform allows you to create innovative solutions in a fraction of the time – getting to market faster.
Platform as a Service (PaaS) is the latest development in cloud technology which has brought a new level of innovation to help future-proof startups. PaaS providers like Microsoft are continually adding new innovative services to their platforms, such as cognitive and artificial intelligence services (see more on that below). That means you can integrate the latest innovations quickly and easily into your product, providing a powerful competitive advantage.
Cost-effectiveness
Cloud computing can bring considerable savings for start-ups in terms of costs. There is no need for immediate investment, with no upfront payments or special resources required. The costs are usage-based, meaning you only pay for the resources you actually use and increase your spend as your company grows, keeping costs down.
The cloud also provides excellent savings in terms of storage, with tools such as Virtual Machines as an alternative to on-premises servers. This virtualisation increases the value of physical server hardware, meaning you can do more with less. As a result, startups have decreased in rack space, lower compute and power usage and other IT requirements, which means lower installation, maintenance, hardware, upgrade and support costs. For startups, these savings are invaluable.
What services can a platform like Azure offer my startup?
Microsoft Azure offers a range of services including storage (virtual machines), web apps, machine learning & AI, mobile apps and media services to name just a few. These services can be invaluable in helping you to build the best product possible, run lean, stay agile and grow fast. You can view the full range provided by Azure here.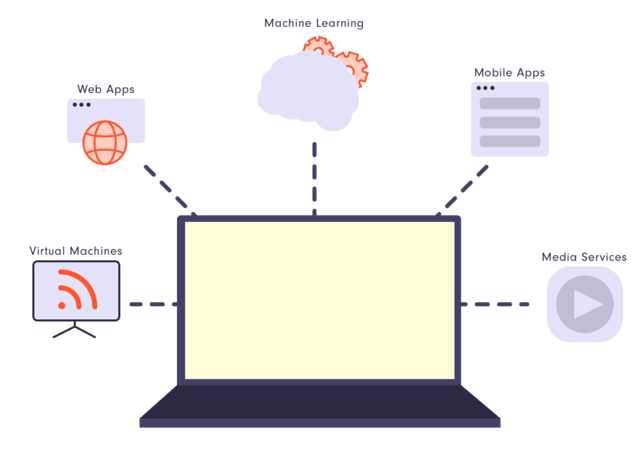 For any startup, the cloud makes resources that were once limited to established enterprises not only accessible but also affordable. Choosing a cloud provider such as Azure presents a real opportunity for startups: to help scale your product, increase safety, innovate faster and reduce the costs of your business.
If you want to find out more, book a Dootrix Cloud Discovery Workshop here and put your start-up on the road to success.