4th February 2020
With the rise of awareness and education involving mental health, we want to focus on the importance of children's and young peoples wellbeing. With the pressures of everyday life young people today sometimes struggle with their mental health, therefore we wanted to share with you the innovative mobile apps out there made to support and advise them.
We are all surrounded by young people we want to thrive, whether that's your own children, relatives or family friends, so we thought this edition of Apps We Love could share some of the best apps out there to support and encourage them.
Place2B set up Children's Mental Health Week in 2015 to start educating children about their mental wellbeing. This year it is from the 3rd to the 9th of February, so why not check out the amazing apps below that are a helping hand to young people.
For Me: The Childline App
https://youtu.be/0WPezz3UcA8
The For Me app was developed by Childline as a safe place children and young people up to the age of 19 can access advice and support on a massive selection of mental health and wellbeing issues.
This app has a variety of resources like; self-help articles and videos on subjects such as body issues, exam stress, emotions, relationships, bullying and self-harm. Not only this, but the app also includes safe and monitored message boards where children can talk to one another about what's on their minds.
With the application, users can track their mood each day in order to receive tailored content that's relevant to how they're feeling.
They have access to the password-protected 'Locker Room' which is a safe area for children to save bookmarked articles, write in their journal and store any artwork they create. If anyone using the app needs more support, the app will connect them to a Childline Counsellor.
3 Good Things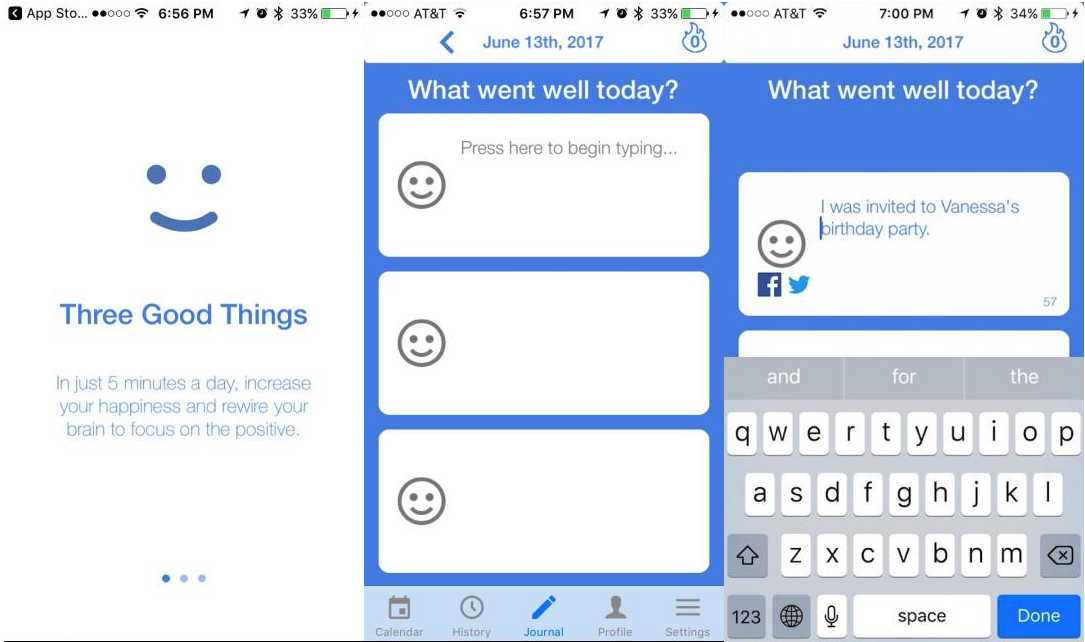 This is the simple app, created by a teenager, that helps young people focus on what they are grateful for. Evidence shows that if you write three good things down every day, your happiness and positivity increases.
Each day the app prompts the user to think about what went well and overtime will train them to look for things to appreciate and make gratitude a habit.
Users can "level up" every time they add a daily journal entry, share their entries on Facebook or Twitter (sharing is optional), gain experience points, view previous entries, set a custom notification, and more.
Headspace for kids
https://youtu.be/N32dOgiTqQA
The co-founder of Headspace, Andy Puddicombe, says that kids 'just get it' when it comes to meditation. 'There is elasticity and freedom in their minds which allows them to be present in the moment'.
Headspace for kids has been tailored especially for children with 5 varying themes for them to explore: calm, focus, kindness, sleep and wake up. This app is available to children and their parents with engaging activities that teach them the basics of mindfulness.
They practice breathing exercises, visualisation and even try focused based meditation, though of course, each activity works better for certain ages. The app separates sessions into age groups to navigate which would work best, the categories are 5 and under, 6-8 and 9-12. Not only does this allow parents to have quality time with their children it teaches young people a valuable skill for life.
PowerMe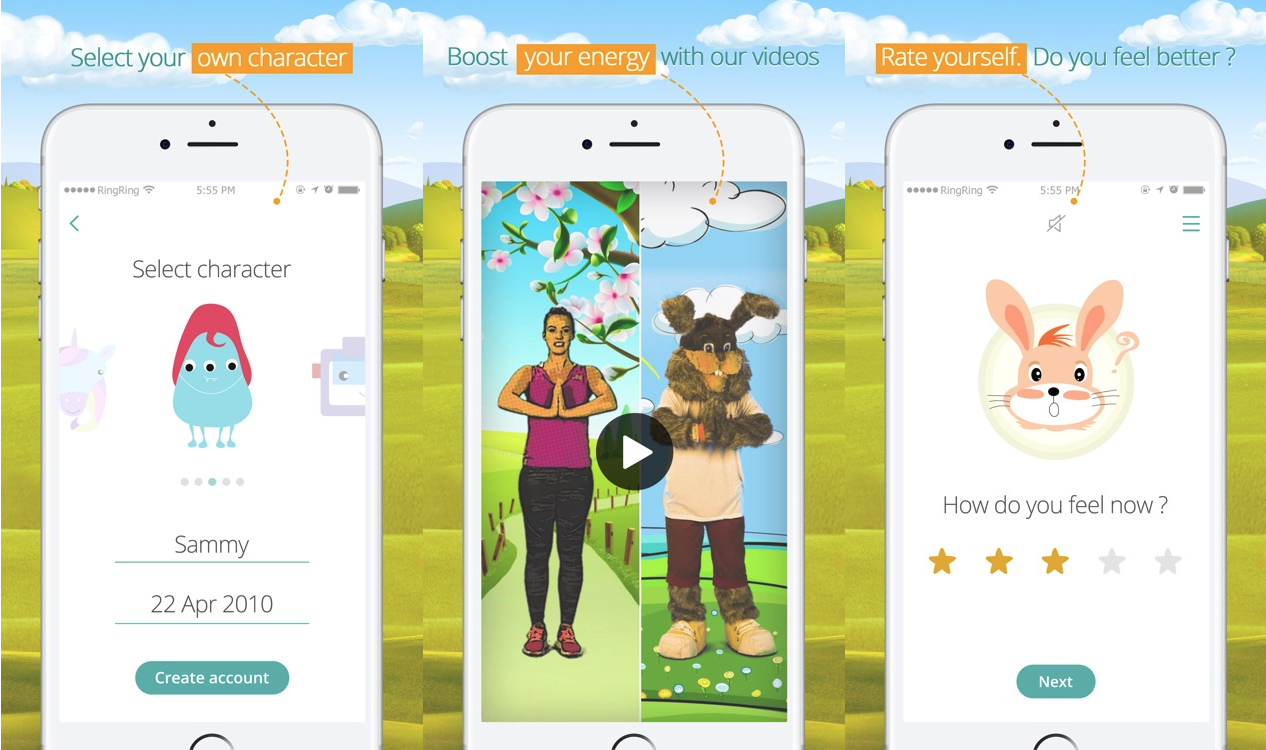 This app is designed to help your child go from stressed to relaxed with activities that appeal to them and hold their attention. Ultimately the aim of the app is to teach children coping mechanisms that they can put into practice in everyday life through a series of bitesize videos.
Each day, they can choose how they're feeling by selecting the most relevant rabbit emoji, including angry, bored, stressed, tired, silly and weird. Based on whatever way they may be feeling, PowerMe provides various coping mechanisms, for example, physical activity, meditation, breathing, visualisations and yoga poses.
Once they have watched videos they can rate how they are feeling again, and if there is room for their mood to improve the app will suggest more clips to help them. Not only all this, but parents can also have a weekly report as to how your child is feeling.
We hope you've enjoyed our compiled lists of apps we love, children's mental health week edition. Here are some children's mental health charities you can donate too:
Place2Be "We provide mental health support in schools through one-to-one and group counselling using tried and tested methods backed by research. We also offer expert training and professional qualifications."
Young Minds "We will make sure all young people get the best possible mental health support and have the resilience to overcome life's challenges"
Mind "We're Mind. We understand mental health and wellbeing. We're here if you need us for support and advice. We help everyone understand mental health problems, so no one has to feel alone."