Context
Since 2010, the Safer Seas Service has been providing real-time water quality updates for beach users across the UK. Years after it's launch, with many engaged and passionate users, the app had struggled with performance issues and was in need of significant restoration to continue to keep communities and beach users safe.
Surfers Against Sewage are one of the most popular and active marine conservation charities in the UK. Their mission is to unite and empower communities to take action to protect oceans, beaches, waves, and wildlife. They saw the opportunity that reinvigorating the app could bring; not only to continue to protect water users from pollution but also to engage their members with new environmental initiatives.
User-centric mobile app development
We successfully re-designed and re-developed the Safer Seas Service app, increasing coverage with real-time water quality updates from the Environment Agency, National Resources Wales and the Scottish Environmental Protection Agency. Meaning Surfers Against Sewage could continue to help their users make informed decisions about how, when, and where they use the sea.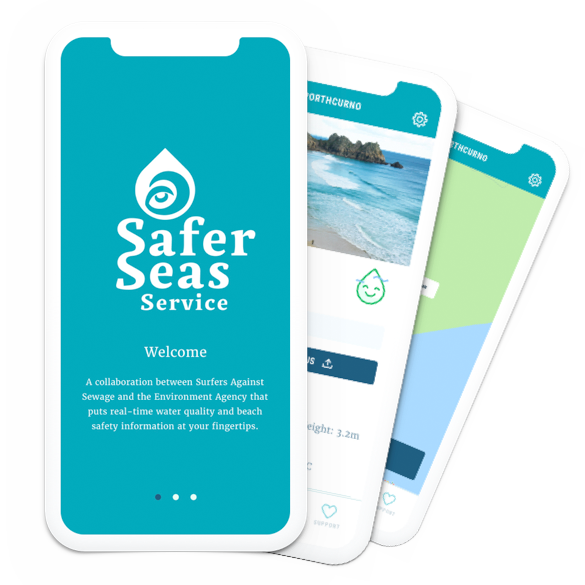 Simplicity = utility
To improve the user experience we made several changes to simplify the application. Streamlining the onboarding process, allowing users to subscribe to updates from favourite locations was a key first step in improving the utility. By using a Lean UX approach with design thinking frameworks like LDJs and rapid prototyping, we were able to validate our ideas and ensure the new app did the leg work for the user.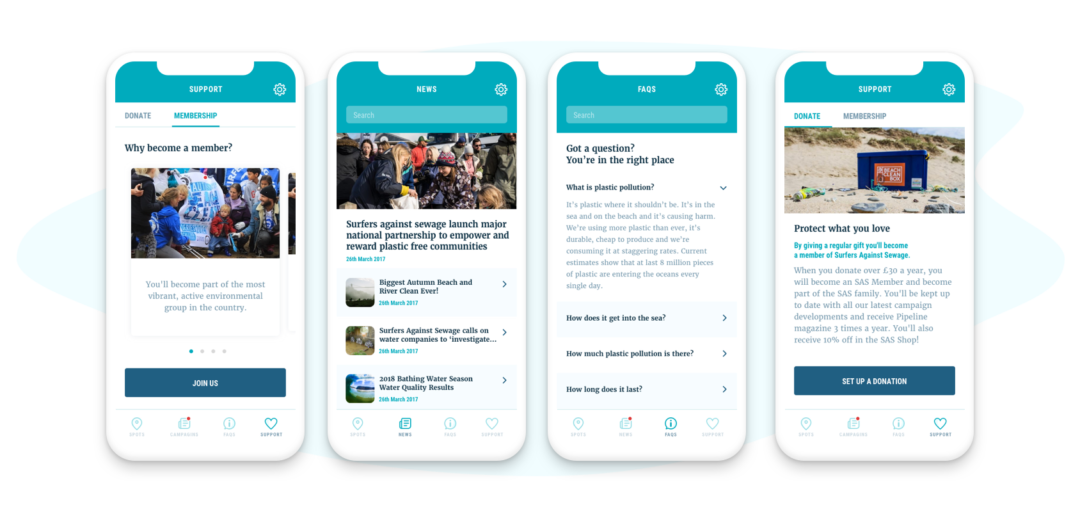 Lean UX, agile development
By adopting an agile approach to both design and development we were able to prioritise the features that mattered most to users and develop a cross-platform application in only 8 weeks. Leveraging the power of implementing a CI/CD pipeline we were able to incrementally deliver application features offering ever-increasing value to the user over time. We engineered the app using Xamarin Forms resulting in a single code base, further expediting development time; enabling us to get to market faster. This approach also improves the efficiency of future maintenance and reduces the ongoing cost of change as the app, and the business needs it serves, continue to evolve and mature.
The latest data at your fingertips
We worked closely with Surfers Against Sewage and the Environment Agency to configure a series of custom API integrations. Using data from a number of disparate sources including; accurate water quality data,‌well‌ ‌as‌ ‌tide‌ ‌times,‌ ‌water‌ ‌temperature‌ ‌and‌ ‌wind‌ ‌speed, UK sea users are updated in real-time. This means users have the most up to date information about the locations that matter to them when they need it.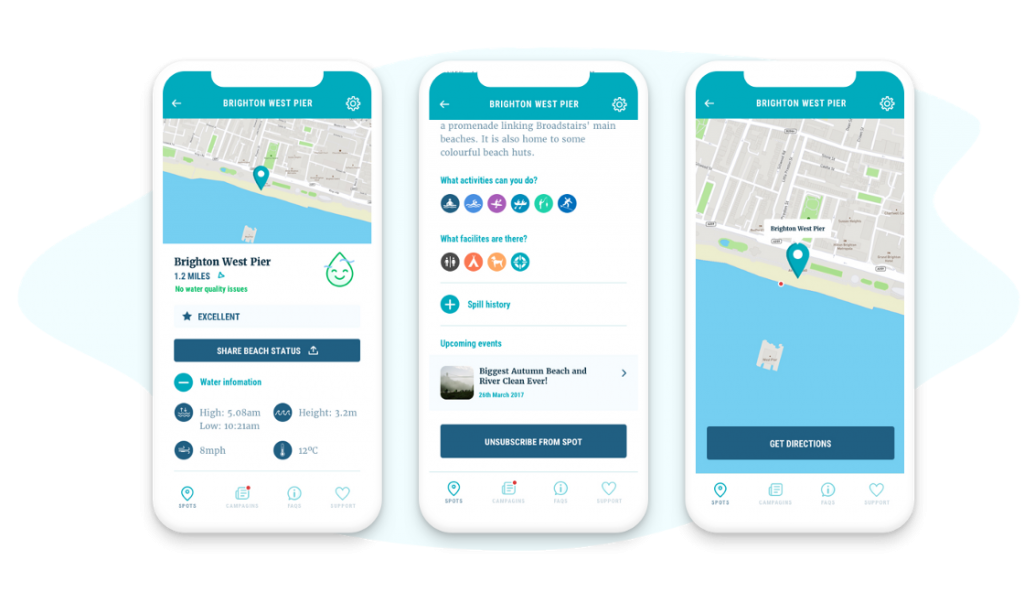 Outcomes
Making waves
Launched at the start of the 2019 UK bathing season, the app has already garnered a 5 star rating from users on both Google and Apple app stores. The app has also won travel/leisure app of the year at the UK App Awards. For the first time ever, the app covers Scottish beaches and we have increased coverage to over 350 locations across the UK. The app also enables Surfers Against Sewage to keep their users informed with the latest campaign initiatives, helping to increase awareness and increase engagement with environmental issues, such as their plastic-free campaign: the creature.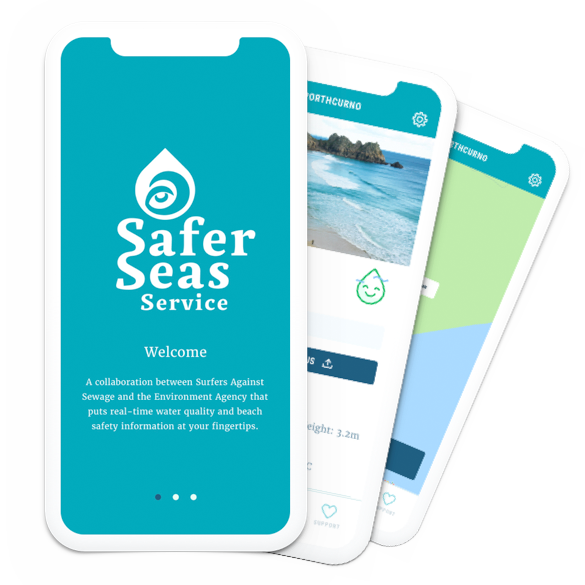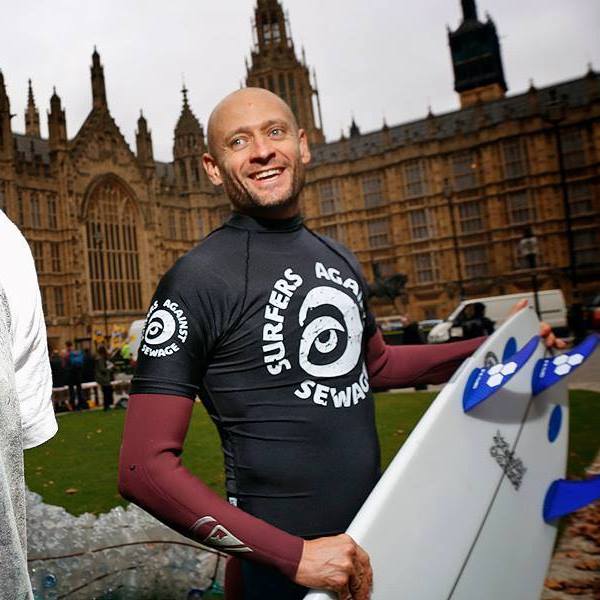 "The Safer Seas Service provides free water quality and beach safety information for hundreds of locations nationwide. It also gives the advice to help subscribers engage with environmental campaigns to protect our ocean and contribute to the ongoing evidence to ensure water companies are investing their profits in better protecting our precious beaches."
Hugo Tagholm
CHIEF EXECUTIVE FOR SURFERS AGAINST SEWAGE
Transferable Benefits
Our work has brought the Safer Seas Service back into prominence, modernising the experience that it offers users and increasing the effectiveness of the app overall.
By focusing their efforts on a next-generation mobile app, any charity organisation can deliver a successful service whilst building awareness and engagement within their community, while delivering value for their donors.